The Z Show's
"Fart Along with Formula One Simulator" Simulator!
(Or FAF1SS -- pronounced "Fah-Fiss" -- for short!)
************* WINDOWS 10 UPDATE!
The executable still works, but you have to go through Windows' security bollocks. You know, "We prevented this file blah" and you click "More Info" and then click "Run Anyway". It still works, w00t!
As an addition, to download the executable and the tune together, click here!
*******************************************
Download FAF1SS.exe (2.80MB)

Download Marcel's tune if you haven't got it (6Mb).(1)
Let me take you back to the Z-Show transmission on 23rd May 2004. Marcel Donné, via IRC, sends us a message: "Please play one of my tunes, but put loads of fart sound effects in it!" We were happy to oblige, and after a brief discussion, Kenz suggested Marcel's remix of Formula One Simulator.
The resulting blend of Marcel's sweet melody along with the natural beauty of the human gaseous expulsion that is more commonly known as The Fart, instantly became a show favourite, especially because you can hear Boz trying his best to sync the farts up to the beat, losing his faculties halfway through!
And now it's YOUR turn!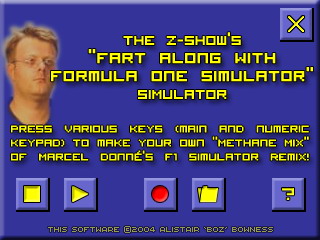 Screenshot of FAF1SS

"Hello... Boz here! After the Sunday show, I decided to write a little application that will allow you to fart along to Marcel's remix. All you need to do is the following:
Download the executable below.
If you do not already have Marcel's tune... WHY NOT? But let's ignore that for now.. just download the optional MP3 from below, too.(1)
Run FAF1SS, making sure Marcel's tune is in the same folder.
Press the PLAY button to start his tune.
Use your keyboard(2) to make up to 53 different fart noises!
You can also record your masterpieces! All you need to do is:
Click on the Red RECORD button, and choose a file to save to. Your farts will be saved into your ASS file. (Do you see what I did there?!)
Press PLAY and use the keyboard as normal.
Press STOP when you're done - or play until the song has finished.
Et voila! An ASS file has been created. Now you can play this file back by clicking on the OPEN FILE button (looks like an open file - good, eh?!) and choose the file. Marcel will virtually play his tune along with your gaseous additions!
If you think you've done a good "methane mix" - send it to us at boz@NOSPAM // c64retro.com (you know how to fix that!). Thanks!"
NOTES:

(1) Make sure the file name is exactly: "Marcel Donne - F1 Simulator.mp3"
(2) The keys are: on the top row - 1 through 0, - (hyphen) and = (equals); all the letters on the second row, plus both the open- and close-square-bracket keys; all the letters on the third row, including the semicolon; all the letters on the fourth row, including < and >; and all the numeric keypad numbers 0 through 9 (make sure the NUM LOCK is on).